Many videos will cause this page to take a minute to load.
ROAD TRIP - Summer 2012
Florida, Georgia, S. Carolina, Kentucky, Ohio and Points in-between
Left High Springs Florida on Friday June 22nd and returned Monday July 9th. This was 17days - the longest trip I have taken since 1988. The principal reason for the journey was to watch my oldest granddaughter, Aubrey, at the JOAD (Junior Olympic Archery Development) Nationals in Hamilton Ohio. A five day event with 550 archers turned into some very hot weather conditions for the competition. This was a very fine five days and Aubrey did quite well. As I do the web site for our local JOAD Club in Newberry Florida, I believe the event was pretty well documented on that site. See and click picture below.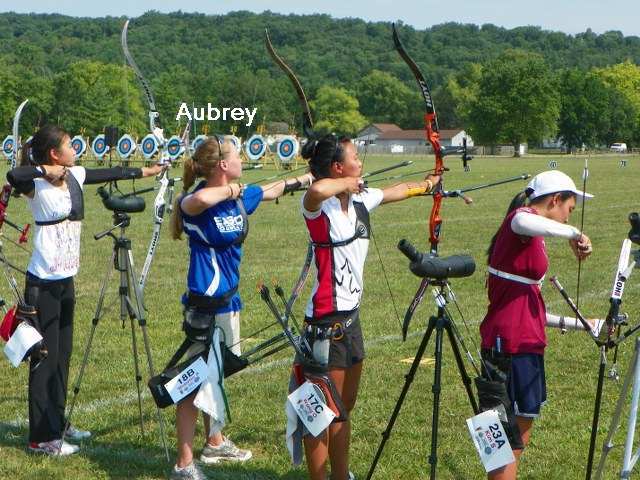 As this trip to Ohio was a long drive, we added some events (somewhat) on the way to see people and places we do not get to see too often. My oldest daughter, Sussette, Aubrey, and I traveled everywhere. Pat, my son-in-law, had to stay home for his work. Sussette's younger two boys were left with friends in South Carolina. On the way to Ohio, we picked up Aubrey's good friend Julia in Louisville Kentucky. Julia stayed with us until after the archery competition. I'm pretty sure everyone had a good time.
Before dropping off the boys, Sussette wanted to stop by her favorite Georgia Peach Plantation. We stocked up on peaches and sampled their fresh peach ice-cream.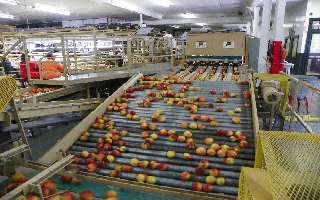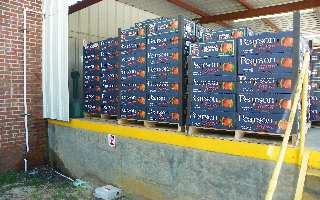 Since we were going to Ohio I wanted to see the city of Napoleon so that I could visit my college roommate from 40 years earlier. Bill and his wife Debbie (a "Townie" from Scottsbluff Nebraska) have lived on their multi-generational farm almost since our college years. Bill came to college immediately following his duty in Viet Nam with the Marines. I always admired Bill starting from his second day on campus. His first priority was to find the right Lutheran Church in Scottsbluff that would be "his church" while attending Hiram Scott College. His priorities were in order, even in those days when we were young. To this day, Bill is still one of the best persons I have known. He spoke often of his family, church, and home town. I was looking forward to this visit.
We had a quick visit - less than two full days - but it was most enjoyable. Bill and Debbie could not have been better hosts. I was most grateful for the chance to renew our friendship. One of their sons and his wife live only a few minutes down the road with their three children on another long time family farm. They too were great to visit, and we got a great tour of their farm. The rest of Bill and Debbie's children live elsewhere,- we missed their visit by a week. :-( Here are some pictures from this visit.



We got to Hamilton on Monday June 25th for the 5 day "JOAD Nationals Event" . [http://newberryjoad.org/HamiltonRoadTrip.htm} It was a series of very hot Ohio Summer Days. The hotel air conditioning and swimming pool were great. The down-time also provided a period to repair arrows and continue writing the next Great American Novel.
Sussette likes to visit churches when she travels. On this trip we ran across some beautiful old treasures. From Sacred Heart Church - 1887 (surrounded by a corn field) outside Napoleon, to Saint Augustine in down town Napoleon - 1880's, to Our Lady of Consolation in Carey Ohio, St. Patrick's - outside Louisville, and finally in South Carolina - Our Lady of the Rosary.
Aubrey did great as did all of her 22 teammates from Newberry, Fl. We left Ohio and headed to Louisville Kentucky to return Julia to her parents. The next day her family headed off to Washington DC. We then continued on to South Carolina where we stayed with Sussette's friends - the Barr Family - for a few days at their mountain cabin. Beautiful scenery added to the fun of mountains, granite water slides, and the lake. SIDE NOTE: Pickens County has a great Public Library.
We traveled to Atlanta for the 4th of July and met up with my son Andrew and his friend Valarie. We then returned to S.C. with them so I'll have additional pictures of area around mountain cabin below.
I was very pleased that my son Andrew wanted to continue our family tradition of watching the fireworks on the forth of July as a family. Many years ago this tradition was observed at Florida Atlantic University while listening to the Boca Pops. Andrew's variation was to get everyone together at Turner Stadium in Atlanta. He ordered 20 tickets... enough for everybody. He and Valarie flew in a couple of days before the 4th of July game. The plan was the Websters (Sussette) would drive South from S.C. and the Walbridges (Jessica) would drive North from Florida. It was a great plan with the only negative being Carrie's being unable to come East from Texas. Sadly, Jessica's van broke down just before the trip, so she too was unable to be there with her nine children. :-(
In spite of the disappointments with Carrie and Jessica.... Andrew provided a wonderful time for the rest of us as well as cousin Monica and her husband who now live in Atlanta. The Georgia crowd was great as always. BRAVES Baseball is a family event there. Being the 4th, there was patriotic music, many veterans shown on the jumbo screen.... with loud applause for each. The whole event was very well done and Andrew got to see Chipper Jones one last time before his retirement from baseball.
Sample Pictures / Videos of a Great Evening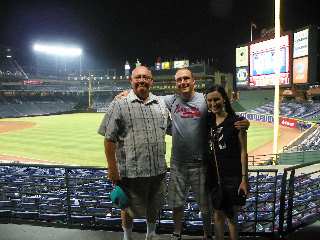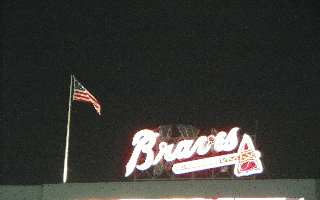 MORE TURNER FIELD 4th of July Pictures
On Thursday July 5th, Andrew and Valarie came to the S.C. mountain cabin to help us explorer the local sights. This was another great visit.
Our Final Morning in South Carolina
ONE LAST STOP
People come from miles around to bottle water from Indian Springs State Park. When we got there there was a man from Atlanta filling up a dozen bottles.