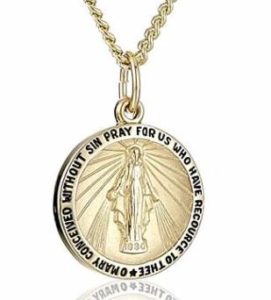 Apparition Of Our Lady Of The Miraculous Medal
The Miraculous Medal owes its origin to the apparitions of the Blessed Virgin Mary in the Chapel of the Rue du Bac, Paris in the year 1830. She appeared as the Immaculata to St. Catherine Laboure, a novice with the Daughters of Charity. On July 18, the Immaculate Virgin, seated in the same chapel, had spoken gentle words of encouragement to the young novice. On November 27, the Virgin Mother showed St. Catherine the design of a medal which would remind people of the love and protection that Our Lady continually offers to God's children. [http://www.ewtn.com/library/MARY/MEDALMI.htm]
My fellow Catholics, please remember to wear your Miraculous Medal.
My introduction to The Miraculous Medal came in the 1950's during my eight years at Sacred Hearts School. There, the Sisters of Saint Joseph provided an excellent loving dedicated environment for our education. The wearing of the Miraculous Medal was strongly and repeatedly encouraged. I have worn a Miraculous Medal all my life and encourage all Catholics to wear one. Among other reasons, for me, it is a reminder that God is watching over me and expects me to follow his commandments and live a Christian Life.
Meditation Prayer with the Miraculous Medal
"Mary, this medal is a sign and a guarantee of your presence. You are present because your power is present, your voice is present and your love is present. Therefore, O wonderful Sinless Woman and our Mystical Mother, we call on you now to fulfill your guarantee. Bring us the great graces you promised to those who carry this medal, especially to those who wear it around their neck. Make us perceive our presence now and always. Make us consciously experience your power, your love and your guidance, that in their strength we may begin to share in your perfect response to God and to each of his creatures, and join in your war with the ancient Serpent. Help us utterly abandon our self-centered feelings and preoccupations. Help us hear and understand you. Teach us to listen and learn. Help us respond to you today and always;, that made one with you we might more fully respond with the rest of the Church to the Father, Son and Holy Spirit, participating in their life and unity."
Lately I feel this Medal has also been a reminder to ask for help:
"The images on the medal were designed by the Blessed Mother and spoken to St. Catherine Laboure. Our Blessed Mother said that the rays coming from some of her fingers demonstrate the graces God gives through her to those who ask and are open.
There are some fingers where no rays are shown. Mary said that is to demonstrate the graces that are not given because they were not requested of her. Just another reminder of Matthew 7:7; "Ask and it shall be given to you"." [https://churchpop.com/2016/03/03/5-reasons-wear-miraculous-medal/]
The Sisters of Saint Joseph told us that those wearing the Medal would be helped at the time of death so as to make peace with the Lord while still here on Earth. As a faithful Catholic, I feel the wearing of this Medal – a visible sign of our Faith – is important.